CSR
CSR และกิจกรรมด้านสิ่งแวดล้อม
CSR
CSR และกิจกรรมด้านสิ่งแวดล้อม
To enrich lives with deliciousness
We would like to maintain plentiful nature to future generations and
would like to contribute to the realization of sustainable society.
We show a part of our CSR activities.
Support and Participation for Udonthani Marathon
We participate and support Udonthani Marathon ever year.
Planting sugarcane sprout to school children
We donate planting sugarcane sprout to school children every year and let them know joy of cultivation through educating how to grow sugarcane.
Planting Tree Project
We implemented the planting tree project near our factory with the local government in order to enrich environment.
Children's Day
We invite children in the neighborhood and hold an activity on Children's Day every year.
Road Cleaning
We have a road cleaning activity around our factory every year to preserve surrounding environment.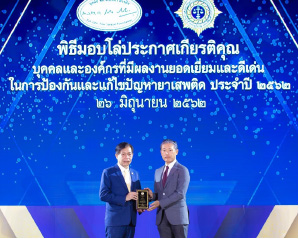 Anti-Drug Activities
We always tackle Anti-Drug activities in our factories. We received an award from the Office of the Narcotics Control Commission as good approaching company against drug.